MultiTrack Editor
Non Linear Editor : (Multi Track Editor)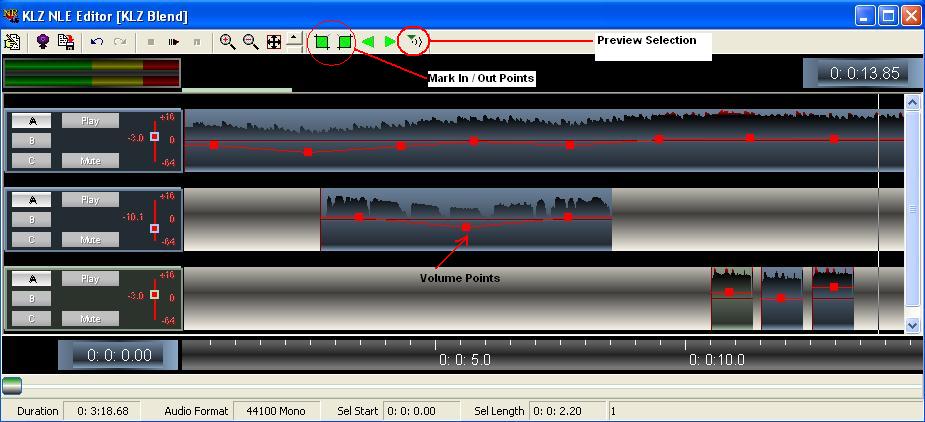 MultiTrack2
The Multi Track Editor is not a recorder, but allows you to edit multiple clips and add as many as 16 tracks. Once satisfied with the finished project, you can render it as one file, saving it anywhere on the network, to your local hard drive or directly to automation.
The editor opens with 3 tracks, and expands to 16 max via menu command or Rt.Click. The buttons for marking In/Out points in the track are circled in the above screen shot.
- Insert Track inserts a new track below the currently selected track
- Append Track adds a new track below all existing tracks
Tracks can be played in any combination: single (each track has it's own play button), all that are not muted, or all tracks in the group.
- To play a single track: press play in the left hand control area adjacent
  the track you wish to play.
- To play all tracks: press play in toolbar... Space-bar also Plays/Stops
   all, the easiest method.
- To stop playback: you can also press the stop top button in the tool bar or
   ANY track's Play/stop button (toggle action) regardless of what track or
   tracks are playing.
You can group tracks together.(ie: A, B, C buttons).
Grouping also helps during editing. For example, by pressing Ctrl while
dragging audio left/right (time-shift), all tracks in a group move
together to maintain associated time-line/mix.