The User Interface


Description:  This document provides a brief overview of the latest KLZ software product, NewsRoom Remote 5 Chromium Edition.
Applies To:    

Audience:



The NewsRoom Remote 5 client provides the user interface to the NewsRoom system.  Providing specialized tools for gathering, producing, and presenting content on-air.  
The Program Main Form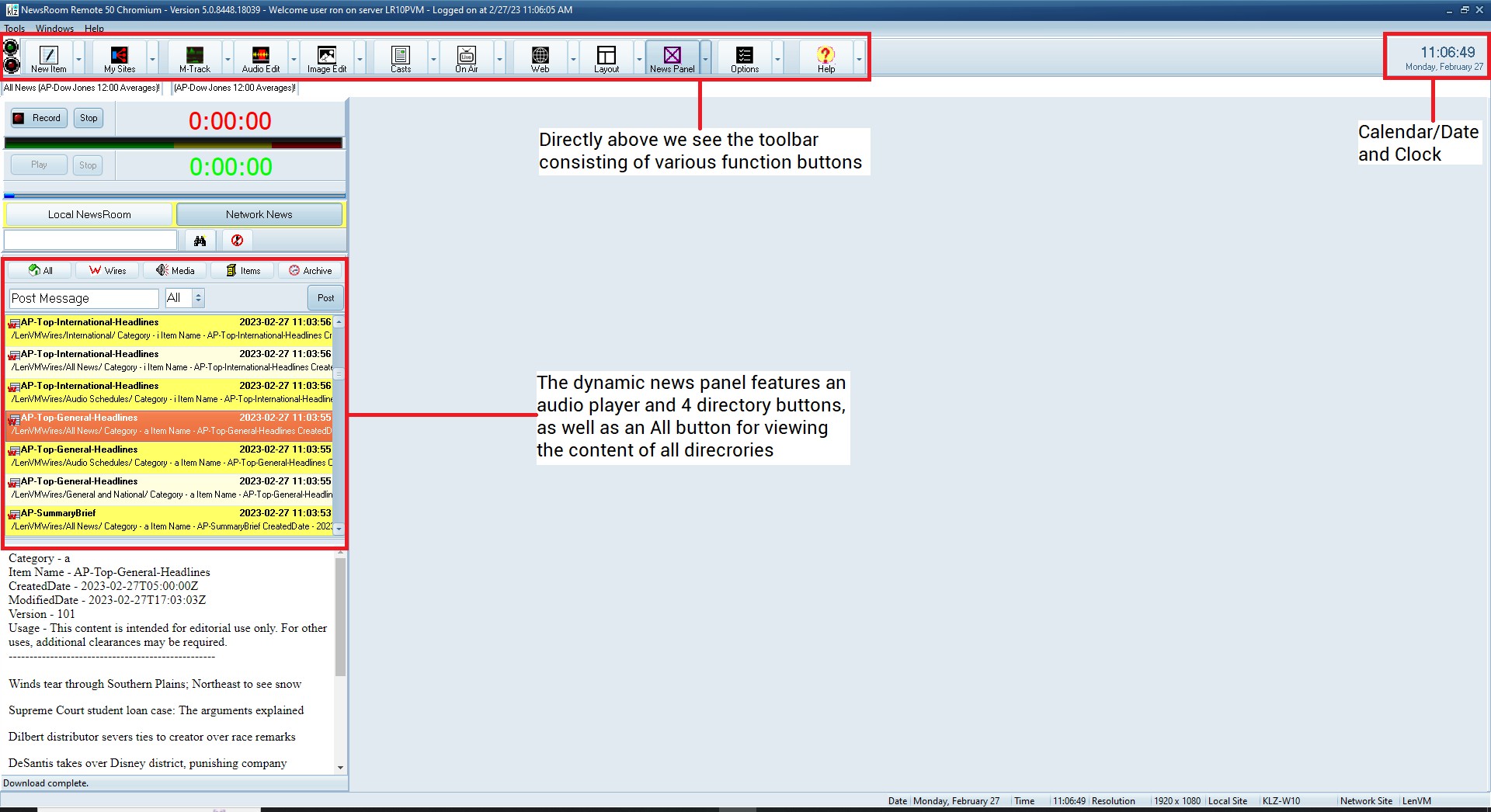 The main form contains the following screen elements:
Main Menu (see below)
Toolbar  (see below)
News Panel (see below)
Clock and Calendar
Ticker
Workspace 
Status Bar
A - The Main Menu


The Main Menu gives you access to program tools, and options using the following sub-menus:
The Tools Menu

The  Tools Menu
Options - Program options
Network Options - Network save paths, groups, settings
Open Home Folder - Open the program data folder
Wire Capture - Configure feeds for local capture
Hardware Options - On-Air control settings
New Item - Launch the text item editor
My Sites - Launch the My-Sites network browser
Audio Editor - Launch the audio editor
NLE Editor - Launch the multi-track editor
Image Editor - Launch the image editor
Cast Editor - Launch the cast editor
On Air - Launch the On-Air
Web Browser - Chromium web browser
Exit NewsRoom (Close NewsRoom 5)


The Windows Menu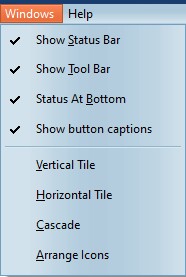 Show Status Bar
Show Tool Bar
Status at Bottom
Show button captions
Vertical Tile
Horizontal Tile
Cascade
Arrange Icons


The Help Menu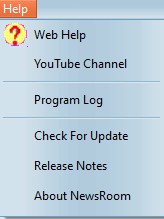 Help on the web ( Program help )
YouTube channel ( How-to videos )
Program log
Check for update
Release notes
About NewsRoom
B - The Toolbar

The Tool Bar contains the following Tool Buttons:
New Item  - Launch the text editor
My Sites  - Open the network my-sites tool
M-Track  - Launch the multi-track editor
Audio Editor  - Launch the audio editor
Image Editor  - Launch the image editor
Cast Editor  - Edit your cast lineups
OnAir  - Open the teleprompter
Web Browser  - Chromium based web browser
Layout  - Manage and save predefined screen layouts

News Panel -  Close or re-open the news panel
Options  - Program and network options
Help  - Online NewsRoom help topics
C. News Panel

The "News Panel" is a new tool included in NewsRoom Remote 5. It is always visible and anchored to the left side of the program.  
The "News Panel" tool provides the following functions:
Instant Record Panel  - Allows for instantly recording audio to a local list
Audio Play back  - Preview/Playback of recorded audio
Local News  - Access the local NewsRoom.
Network News  - View incoming network news from the NewsRoom Server.
Preview panel  - (text, image, and video previews)
(For more information on "Local NewsRoom" and "Network NewsRoom" please refer to the help documents specific to those topics)