Adding New Contacts List

To add a new contacts list in your NewsRoom 5 system, first open the NfsAdmin program and select 'Storage'. Next click on "New Contacts List".

Next, fill in the required text field with the name of your new contacts list and click Ok.

Your new contacts list has been created.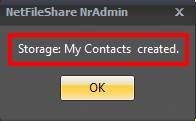 Finally, as with any and all changes, or edits to the system from the server-side (back-end) we will perform a "Service Load" to finalize the operation.
The service load is now done, and the server has updated the changes made to the NewsRoom 5 system.
With the NfsAdmin program still open, expand the list of containers within your server and click on "AdminDB" to view the newly created contacts list.
Log into your NewsRoom 5 client and launch the "My Sites" tool. In the left hand tree, expand the "Database" container to expose the "Contacts". 
Users can now create new contacts from within the My Sites tool, or by clicking the legacy contacts button on the main toolbar.