NR Remote 4.5:   Local Cast Tool
The local cast tool / editor allows you to you to create and arrange broadcast line-ups, make edits, and calculate your timing on the air. You can also import or transfer stories and audio cuts to and from the main site, as well. 
Creating a Cast :    

To create a new cast, click the Local Cast button on the Remote 4.5 main toolbar. With the new cast window open, click on the 

 Add a new segment to cast button. This will focus your cursor in the bottom portion of the cast window and allow you to start typing your news item, or drag & drop stories from the remote wires into your line-up.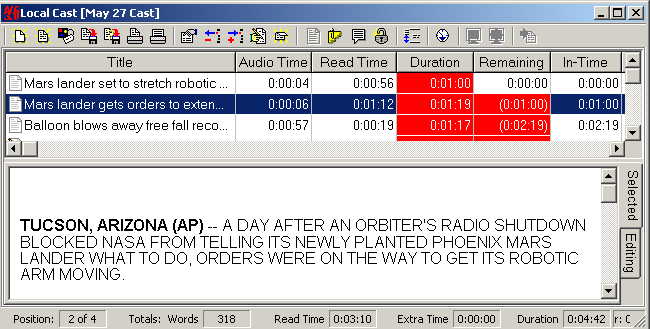 You also have the capability of dragging & dropping content to your cast from the internet (below), as well as audio cuts from a feedlist, or playlist.