The Home Folder
Description:    This document presents an overview of the Home Folder in the applicable NewsRoom program.
Applies To:

Audience: 



1. Home folder
TheHome foldercontains the user data files for the program.
The base path for NewsRoom Remote 5 is:
C:\ProgramData\NewsRoom4\Users\NewsRoomRemote\
In the image below you can see that both programs have different home folders.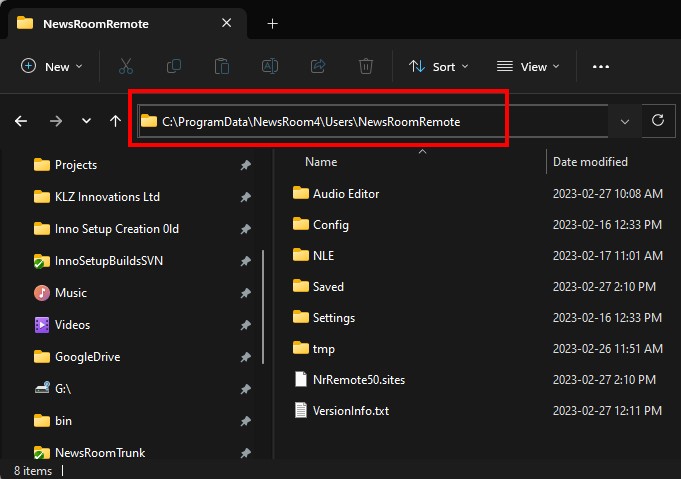 Home Folder Explorer 
2. Workstations Settings Folder
All Users share the same workstation settings folder. These folders are shared regardless which user is logged into Windows.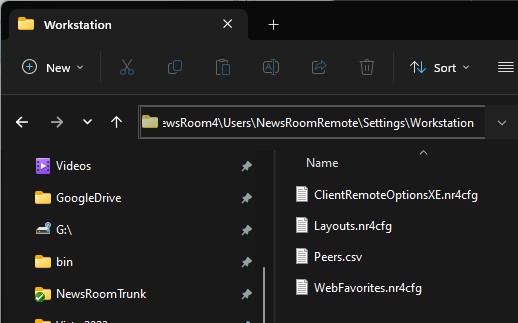 Home Folder Settings Workstation 
3.  Multi-track Projects Folder
All users of the Multi-track editor share the same projects folder. Each folder has a generated name based on the date and time it was created.  Inside of each project folder are database files and a working folder with project media.
Home Folder NLE 
4. Cast Server Config Folder  
The config folder location is:
C:\ProgramData\NewsRoom4\Users\NewsRoomRemote\Config.
The config folder contains config pages used by the embedded cast server in NewsRoom
The two config files are:
NIS111.CFG - the cast server config page.
NIS105.CFG - the General config page.
Home Folder Config   
5.  Multi-Track Projects Working Folder
The working folder contains project assets for the Multi-track editor.
Home Folder NLE Working 
6. The Saved Folder
The saved folder contains the NewsRoom Remote database and sub-folders for storing media files.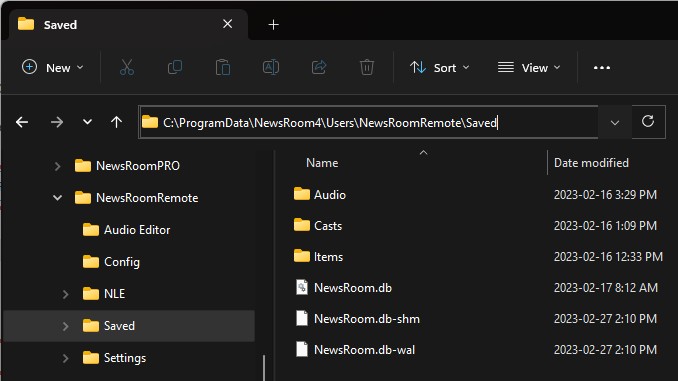 Home Folder Saved Items 
7.  Audio Editor Folder
The audio editor folder contains temporary working files for each instance of the audio editor the user is operating.
Home Folder Audio Editor 
8. User folders and Server Folders
The system stores network settings for each user and for each server they connect to.  The server config pages are cached and encrypted for each server separately.  The user can access these pages when offline, without connecting to the server for five days.  
* NewsRoom Remote users will need to re-connect (authenticate) to the server after 5 days in order to maintain their license to operate the software.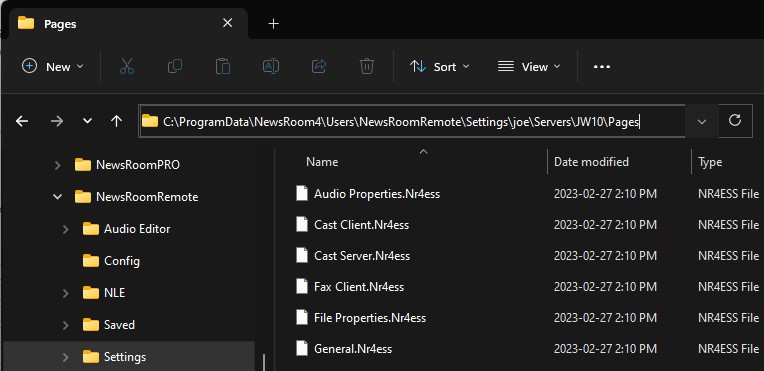 Home Folder Server Pages 
9. Trust Folder
The trust folder contains the server certificates if the user has configured SSL.  Each server the user connects to will have its own trust folder with its own certificates.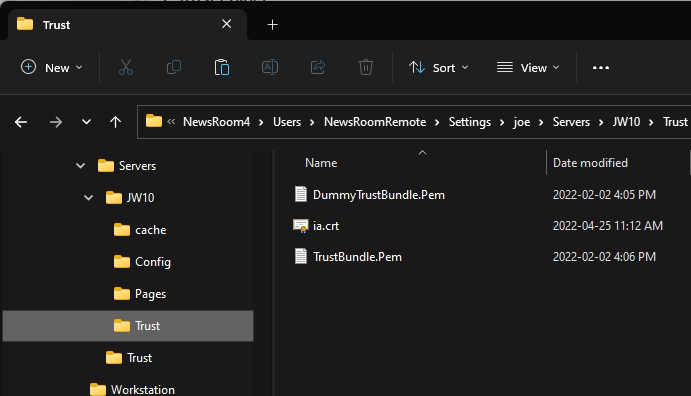 Home Folder Servers Trust 
10. The Network Config Folder
The config folder contains the Network Options file.  Each unique user and server connections will have its own Network Options file .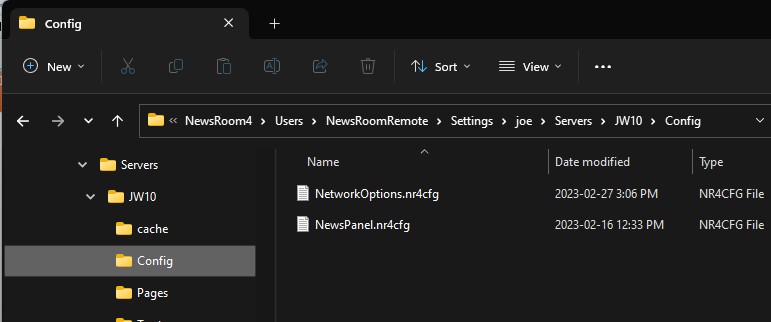 Home Folder Server Config